December 1st, 2008 at 1:53pm |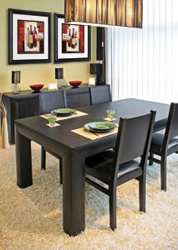 Eat. Drink. Be merry. America is in love with food! Wall art feeds different styles and tastes as it compliments the interest and diversity of the consumer who has brought entertaining back into the home. As we set our tables to welcome friends and family, we also set our style through wall décor.
Where we eat and gather is the modern hearth of a home, a warm place that fills our senses. Kitchens and dining rooms should be a feast for all the senses—good food is best served on a gorgeous plate and in a beautiful room. Artwork allows us to decorate our spaces and share our interests with family and friends. Art selection is an extension of one's identity; it helps to convey who we are and what is important to us. Like souvenirs, art we collect allows us to tell stories to other as we "travel in place", bringing the world into our home.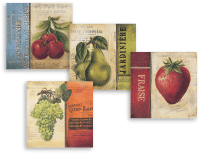 Americans have always accepted the best the world has to offer and made it their own. In this sense we are America-the-Melting-Pot. In the kitchen and dining room, we are particularly comfortable adopting cultural influences to flavor our home. See Gorham's use of abstract style and European imagery in GOR-160 and 161, or Poloson's use of French text and still-life—they show how culture influences what happens in the kitchen.
Decorating in our homes, our hearth, can be broad and diverse. Culinary art trends for the home compliment dining accessories. Color trends and fashion tie it all together and make it relevant for the designer and consumer. Look for fresh, warm "living colors" to whet every appetite and to enliven kitchens and dining rooms – they are the new gathering places. Consumers can choose from a broad menu allowing them to set their own personal style.