April 4th, 2008 at 2:00pm |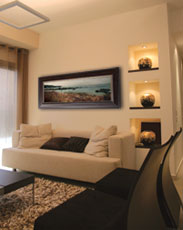 Nature informs and inspires our art. Natural patterns form the basis of an amazing range of images and ground even the most modern human spaces. Among our thousands of images, even our abstract images contain elements representative of the natural world. Our metallic process, ColourSheen™ shines most brightly when following the patterns and colors that nature provides. Metallic leaves and branches shimmer with amazing color thanks to ColourSheen™.
Every job brings a new set of challenges to the table. Our products deliver a wide selection of images and sizes to suit your customer's needs. Our quality will please you and our prices will pleasantly surprise you. We understand that every business must survive on its margins, and we help create some of the best margins in the industry. You will find our expert art direction and design provides the perfect images for your market, while our cutting edge production delivers the best product at the best prices. With our 30 years in the art and design industry, we are prepared to deliver the very best to you.We are always working and creating for you at Gango Editions. Our latest images are ready for you now.