December 6th, 2010 at 11:11am |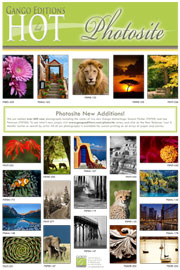 We just added over 600 new photographs including the works of two new Gango shutterbugs: Susann Parker (PSPKR) and Lee Peterson (PSPSN). Download our New Photosite Hotlist today.
To see what's new, simply visit www.gangoeditions.com/photosite, enter, and click on the New Releases 'Last 3 Months' button or search by artist. All of our photography is available for custom printing on an array of paper and canvas.
Hot Lists, new releases, and special promotions can now be found on our facebook page too!