July 11th, 2011 at 2:17pm |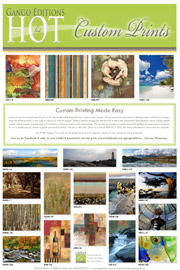 Need art prints created specifically to fit your projects? Gango Editions comes to the rescue with our extensive collection of photographs and fine art images that can all be printed in any size on canvas or fine art paper.  Simply find an image you like and let us know the dimensions and medium (velvet paper, photo paper, matte paper, canvas) and we'll create a custom product to suit your needs. We can mirror images to create beautiful gallery wrapped canvas pieces or cut a landscape to create a great panoramic effect. The sky is the limit. Give us a call at 800-852-3662 for more information and substrate samples.
All of the images fe atured on this hot list have proven popular choices in our custom printing program.
Join us on Facebook and enter to win a 62×18 panoramic canvas print.
You can download our New Releases Hot List here .