May 1st, 2008 at 12:46pm |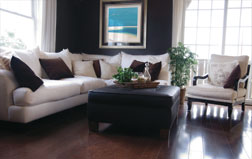 A trip to the coast inspires and rejuvenates us with a powerful blend of water, earth, sky, flora, and fauna.  Thankfully, we can transport this ultra fresh sense into our spaces through a coastal inspired interior design – whether we live on the coast or in the heartland. Two main trends are dominating the coastal look currently: a cool blue relaxing retreat, and a spicy festive Caribbean salsa.
Relax with Cool Blues
The relaxation and tranquility that cool blue and aqua hues inspire makes it easy to see why this color trend is so popular. This cool family of colors reminds us of water, one of the two major elements of the coast. Light blue tones pair beautifully with subtle creams and whites, to create a vast sense of serenity and calmness in any room.  With such a light background, exotic and modern accents from the lush life that surrounds coastal waters can be brought into the foreground.  These accents are rich in color and inspired by coastal foliage, birds, and nautical creatures.
Soak it up with Warm Spices
At the opposite end of the color spectrum, the coastal trend can also reside in the Spice Island color palette.  This coastal setting reflects the warm and inviting feel of the tropical sun.  Layer this backdrop with saucy warm accents, depicting the bright tropical colors that are popular from San Juan to San Diego.
Coastal is most importantly versatile.  Today's coastal trend expresses both the lightheartedness of a day at the beach and the strength and solitude of a rocky coastline.  It can be hot and tropical or cool and organic—the coastal trend is as broad as our shore destinations.
Whether the palette is cool and serene or spicy and vibrant, it is evident that texture plays a large part in creating the perfect ambiance.  Richly textured elements and fabrics such as linen, weathered wood, distressed paint, and stone complete the coastal message of nature's design.�