April 21st, 2009 at 10:48am |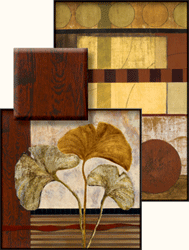 Product designers have produced an explosion of new objects for the home thanks to new production techniques in recent years.  As we know, good design springs from well-known design principles, not just new techniques.  Thankfully, faux bois takes advantage of both.
Faux bois, or the use of wood shape, pattern, or texture in design incorporates classic principles bringing natural elements into our interior spaces.  In many spaces, we already employ real wood in flooring, furniture, and furnishings.  Faux bois, or "fake" wood allows us to use the inspiration of wood in new ways—applying it to fabrics, ceramics, wall décor, among others.
We have always molded wood to fit our interior spaces.  Faux bois continues that long tradition with new materials.  In much the same way that we have carved and stained wood in the past, we now use fabric, ceramics, metal, and print to express our inspiration in vastly expanded ways.  Gango Editions artist John Kime skillfully paints red and black wood panels in "Urban Ginkgo" showing how faux bois can be incorporated into wall décor.  In a similar way, we can see a wood grain pattern on table lamps featured at www.design-milk.com and available at www.lekkerhome.com.
Whether we apply faux bois in subtle ways or as a focal point in a space, the use of natural inspiration in creative ways innovates our designs.  Faux bois is a traditional technique with new life thanks to new materials and our application of color in fresh and bold ways.